Floor Care
10/01 Cleenol Multi Purpose Floor Cleaner
Size: 5 Ltr
A general purpose neutral floor cleaner and maintainer.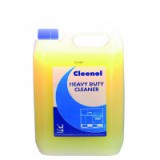 10/02 Cleenol Heavy Duty Cleaner
Size: 5 Ltr
Suitable for hard floors where heavy soiling and grease are evident.
10/03 Cleenol Hard Surface Cleaner
Size: 5 Ltr
A degreaser suitable for concrete tiled floors.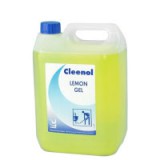 10/04 Cleenol 'Lemon' Gel Cleaner
Size: 5 Ltr
A general purpose floor maintenance product.
Leaving a pleasant fragrance.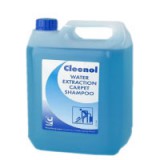 10/05 Cleenol Carpet Extraction Shampoo
Size: 5 Ltr
A concentrated, low foaming carpet shampoo, leaves a pleasant smell.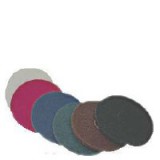 10/06 Floor Pads
(A range of sizes and grades available)
Suitable for floor polishing machines.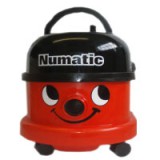 10/07 Henry Vacuum Cleaner
1200w twin speed – inc. tool set.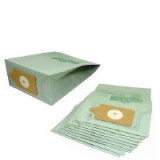 10/08 Henry Hoover Bags
Pack size: 10
For use with Henry Vacuum Cleaner.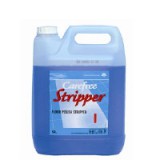 10/09 Carefree Stripper
Size: 5 ltr
An alkaline stripper for removing polish and maintenance films from alkali resistant hard floors.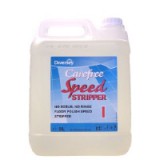 10/10 Carefree Speed Stripper
Size: 5 ltr
A 'no scrub/no rinse stripper for use on all resilient floors (excluding wood).
Can be applied with a mop or machine.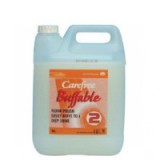 10/11 Carefree Buffable
Size: 5 ltr
A water based buffable floor polish.
Suitable for most 'sealed' floors.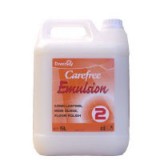 10/12 Carefree Emulsion
Size: 5 ltr
A protective emulsion floor polish, formulated to dry to a bright finish.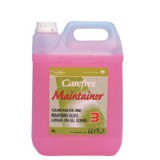 10/13 Carefree Maintainer
Size: 5 ltr
Cleans and maintains a shine on most floor types.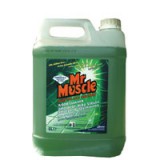 10/14 Mr Muscle Floor Cleaner
Size: 5 ltr
Lifts stubborn dirt and grime.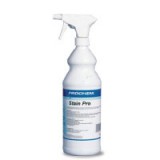 10/15 Prochem Stain Pro
Size: 1 ltr
A water and solvent based alkaline protein spotter for blood, vomit, ink, tea and most food based stains.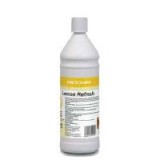 10/16 Prochem Lemon Fresh
Size: 1 ltr
A concentrated deodoriser.
Can be added to extraction shampoo's and hard surface cleaners.
Mops / Buckets & Brushes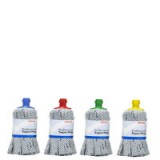 11/01 Vileda Supermop head
Available with Blue/Red/Green or Yellow colour code suitable for use in all areas.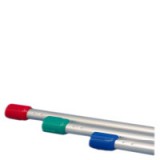 11/02 Vileda Supermop Handle
Available with a colour coded collar.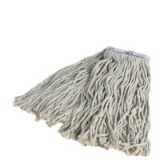 11/03 Kentucky Mop Head
Available as 12oz or 16oz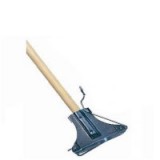 11/04 Kentucky Mop Handle C/W Clamp
A purpose product designed to be used with kentucky mop heads.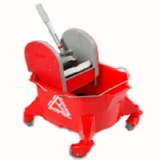 11/05 Kentucky Mop Bucket & Wringer
Available in Blue, Green Red & Yellow.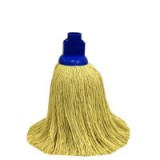 11/06 socket Mop Head
A push on mop head.
Available with a Blue, Green, Red or Yellow collar.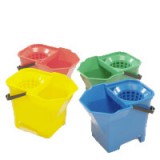 11/07 Mop Bucket & Wringer
Available in Blue, Green, Red or Yellow.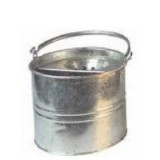 11/08 Galvanised Mop Bucket
A strong metal bucket that can take the 'knocks' of daily cleaning needs.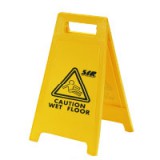 11/09 'Caution Wet Floor' Sign
'Cleaning in Progress' on the other side.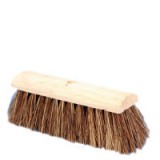 11/10 Stiff Yard Broom
Size: 12"
A sturdy broom head suitable for outside use.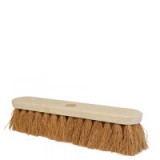 11/11 Soft Coco Broom heads
Size: 12", 18", 24", & 36"
A soft broom head suitable for indoor use.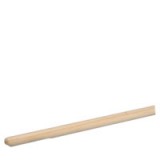 11/12 Wooden Handle
Size: 48" & 60"
Suitable for use with socket mop heads soft coco broom heads and stiff yard brooms.
11/13 Dustpan & brush Sets
Available with a soft or hard brush in Red, Green, Yellow or Blue.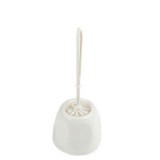 11/14 Toilet Brush & Holder Set
A plastic brush and holder set – available in white.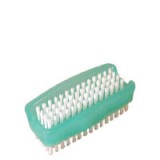 11/15 Plastic Nail Brush
(colour may vary)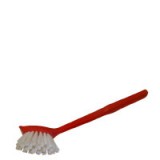 11/16 Washing up Brush
(Colour may vary)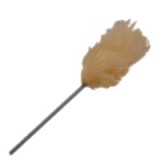 11/17 Duster Brush
Size: 24" or 36"
A lambs wool duster head for cobwebs ad out of reach dusting.